Raymond Crane Hire Ltd. was formed in 2002 to provide crane hire in the local area around Nottinghamshire. Although the company is relatively young most of the staff and operators have well over 15 years in the industry.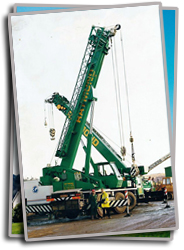 Starting with a few older machines in the early days as the business grew based on its reputation for high levels of service, more cranes were added and the older fleet replaced with new state-of-the-art machinery. We have on order more new machines which will further enhance the fleet, including a Grove GMK4100 (100t All terrain) due for delivery 2009/2010.
As the impact of BS7121 – Safe Use of Cranes, became apparent Raymond Crane Hire expanded its services to provide a full Contract Lifting service.
From its small beginnings as a family run company, Raymond Crane Hire has earned its place as one of the top crane hire companies in Nottinghamshire and is set to continue its expansion through offering the highest standards of service and safety.